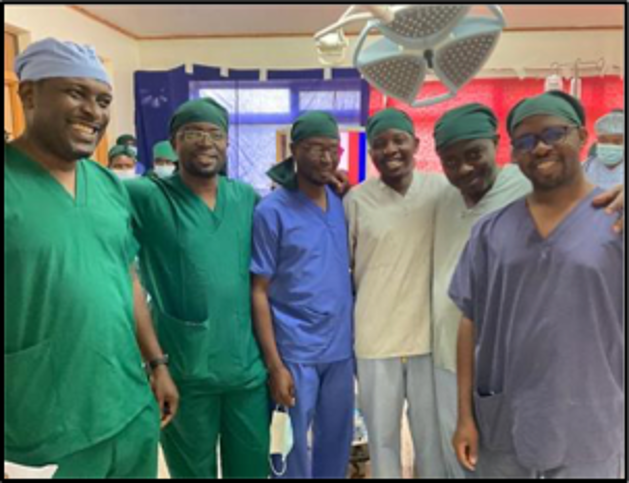 New Services in Kisiizi in 2022
Kisiizi Hospital's team is driven and resourceful, doing its best to bring the best possible health care to people living in southwest Uganda. Amongst their latest services are ophthalmology services and laparoscopic surgery, both launched this year.
Ophthalmology services
The comprehensive Eye Care project was launched at Kisiizi Hospital in July 2022. Two staff members were priorly trained in Eye Care and an eye surgical camp was held at the hospital last summer. No less than thirty-four patients underwent eye surgery with very good outcomes, thanks to Dr Sam and the entire team.
The Ophthalmic Clinical Officer and his assistant in Kisiizi run the regular Eye Clinic and screen patients to be seen by Dr Keith Waddell and his visiting specialist team from Ruharo Eye Clinic in Mbarara.
At the present time, Kisiizi Hospital eye specialists cannot be sent out into the surrounding region. This means that some patients cannot access the appropriate treatment and resort to local methods. To be able to help more people, the hospital simply needs the cost of diesel to allow them to send the ophthalmic clinical officer and a support nurse to visit local people and help them cure their eye issues.
Laparoscopic surgery
More recently, Laparoscopic Surgery was launched in Kisiizi Hospital in September 2022 under the guidance of Dr Gabie (consultant surgeon- extreme left on the picture) with a team of specialists from Kampala. A surgical camp was held for four days and ten patients were operated on. They all recovered well and quickly.
Since the team of doctors continued to routinely perform Laparoscopic Surgeries. Kisiizi hospital is the furthest hospital south of Kampala to offer this service – at a very subsidized cost as most of their services. Laparoscopies are minimally invasive surgeries particularly recommended in gynaecology, gastroenterology and urology. This service will make a massive difference in helping patients quickly and safely.
Not only did the team of specialists educate and train Kisiizi's staff members, but they also donated various equipment and sundries, displaying generosity with their time and money. Kisiizi Hospital was also helped to support the camp by partners such as Equity Bank-Uganda, Planet Pharmaceuticals and Mediquip Pharmaceuticals.