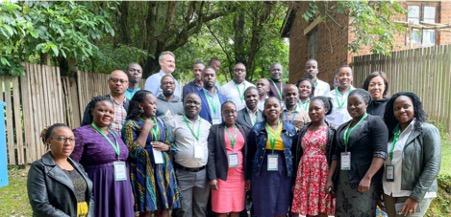 Stre@mline Update
After winning the Swiss Re grant for the Stre@mline project a few months ago, staff members from other hospitals will be trained on how to use the system at Kisiizi. Led by members of the Stre@mline team, the first workshop with Medical Superintendents and Hospital Insurance Scheme Managers from around the west of Uganda happened last month. Staff members from Kisiizi also shared their experience in providing affordable and quality healthcare and encouraged them to do the same.
Stre@mline and Kisiizi hospital have high objectives, such as going paperless. So far, one ward was chosen to trial the initiative, using a laptop on wheels to do the round. Staff members use the Stre@mline system to do their patient notes, drug orders, and lab and imaging requests. More than simplifying working processes, this system will ensure that billing is automatic and stop delays in discharging patients. The trial is going well, the Stre@mline developers are quickly dealing with a few issues.
The next challenge will be to find the fund to buy other laptops and ideally tablets to expand the trial to other wards.
Learn more about Kisiizi's Community Health Scheme & Stre@mline in this video